JANUARY 13, 2007 – Following a two and a half year battle with MDS and then leukemia, Michael passed away. A memorial service is now being planned and details regarding the same will be posted here this coming Wednesday or Thursday. In lieu of flowers, we ask that donations be made to The Marrow Foundation's TIME IS OF THE ESSENCE FUND. Many lives have been saved as a result of those who joined the National Marrow Donor Program at donor drives on behalf of Michael—and who were perfectly matching donors for others in need. There is much work to do, and we ask you to please join us in this effort. Thank you for all of your support.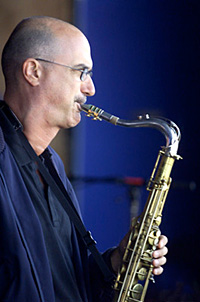 Het is dus toch zover gekomen, Michael Brecker (1949) is nu ook dood. Een introductie lijkt me niet nodig, en is nu trouwens toch te laat. Wil je nu alsnog al zijn werk voor anderen beluisteren, dan kun je hier beginnen. Maar hij maakte zelf ook goeie platen. Michael Was Een Hele Grote.
Bij mijn weten uitsluitend verguist -in een poging controversieel te worden- door altiste Candy D heeft Michael veel nummers kleur ingeblazen, heel veel nummers, waaronder Still crazy after all these years, Don't let me be lonely tonight. En waar ik zelf Branford Marsalis als jazz cat nog net iets baanbrekender inschatte, bleek uit diens confessie dat Michael juist het grote voorbeeld van Bran is.
Volg ons even in a sentimental mood…
..